Not Your Average Bulletproof Recipe

Bulletproof Hot Cacao  |  Egg-yolk Bulletproof Coffee  |  Adaptogenic Bulletproof Coffee  |  Salty Bacon Bulletproof Chocolate Coffee | Bulletproof Dalgona Coffee
Looking for a way to spruce up your morning coffee drink? Well, look no further. Assuming that you are familiar with the regular Bulletproof Coffee — which is made by blending grass-fed butter or ghee and C8 oil into your morning cup of joe to help kick cravings, give energy from fats, and make you feel great (plus it tastes great, too). But let's be honest, sometimes you are looking for something different. That's why we have selected five major upgrades to your average Bulletproof Coffee recipe.


Bulletproof Hot Cacao

For those who do not like coffee, or occasionally want to skip coffee, but need a quick pick-me-up, this recipe is for you. The star of this recipe is NoordCode Power Cacao. This is an organic, unroasted cacao powder without sugar. Normally, cacao powder is alkalised, meaning the natural cacao is washed with potassium carbonate, a chemical solution. With Power Cacao, however, this is not the case, making it completely natural and preserving all the valuable substances, such as antioxidants and minerals.

This cacao powder also contains organic Lion's Mane and Chaga, which are of the highest quality mushrooms grown by the Finnish company KÄÄPA. Power Cacao is flavoured with maca, vanilla, ceylon cinnamon and the prebiotic hydrolyzed inulin. As a result, you don't need any additional spices or sweeteners to flavour this recipe. We combined Power Cacao with ghee and MCT Oil. Together, they give you a delicious hot drink, full of nutrients and fats that provide you with energy.
INGREDIENTS
(1 serving)
½ cup filtered water
½ cup coconut milk
1 tbsp NoordCode Pure Ghee
1 tbsp NoordCode Pure MCT Oil
2 tbsp NoordCode Power Cacao
DIRECTIONS
Bring water and coconut milk to a boil in a medium-sized pot (if using a hand blender) or a small pot (if using a blender).
Remove from heat.
Add the rest of the ingredients to the coconut milk and water.
Blend using a hand blender or pour the mixture into a blender and blend till frothy.
Pour into a mug and enjoy.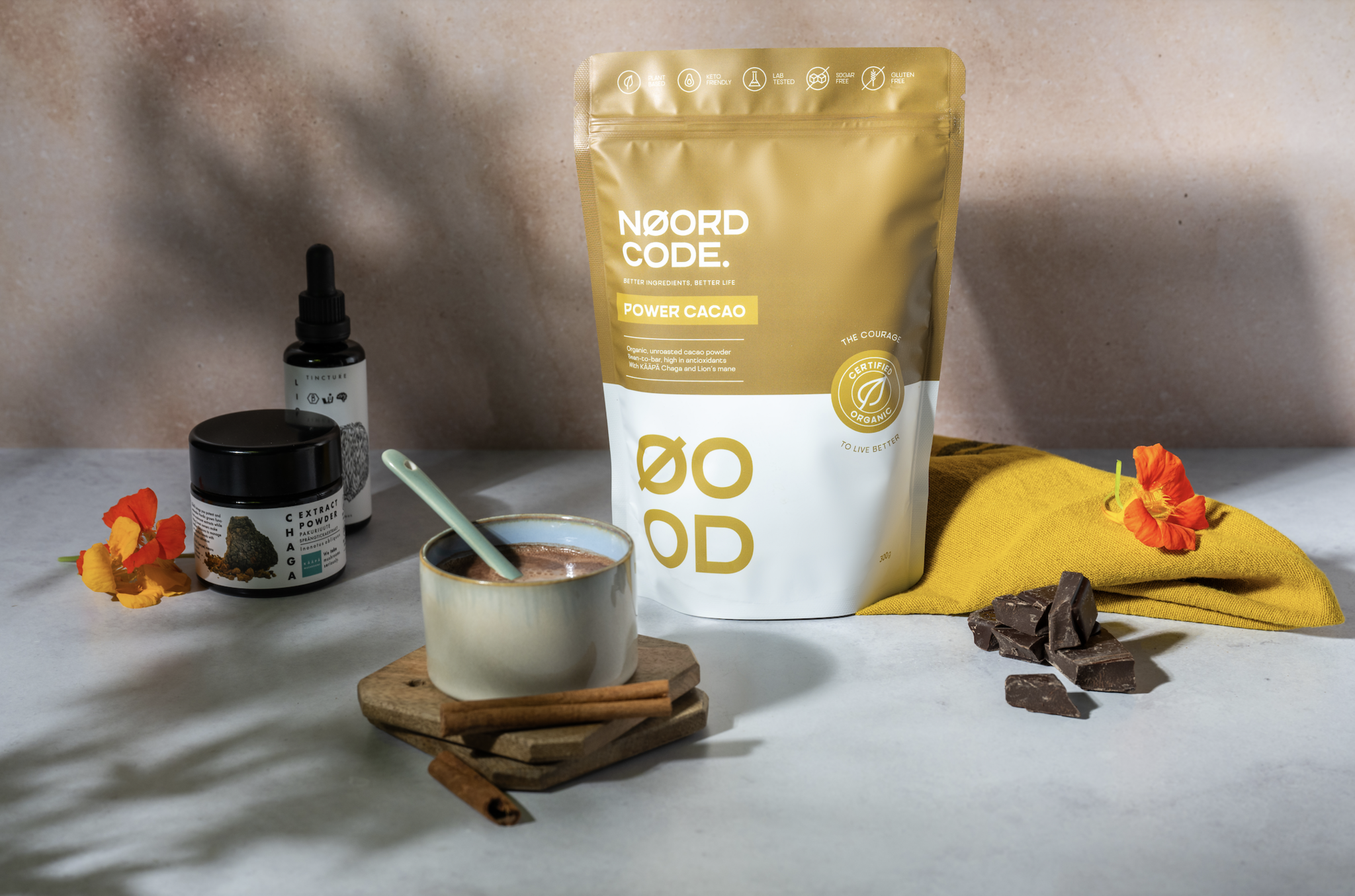 Egg-yolk Bulletproof Coffee

Egg yolk coffee may not sound very appealing, but it is actually a coffee recipe that is widely used throughout Asia in various forms. The egg yolks add a mild flavour that goes well with coffee and creates a much creamier beverage (with more foam). You can add egg yolks to your coffee (or other fat-rich beverages) to vary up your fat intake and include the vitamins and nutrients that you won't get from butter or coconut oil. 


INGREDIENTS
(for 2 servings or 1 large serving)
1 ½ cup (350 ml) NoordCode Pure Coffee
3 egg yolks
1 tsp of Erythritol or another sweetener of choice
¼ tsp of salt


DIRECTIONS

1. Brew your coffee with 1/2 the amount of water you would normally use if you want to have a strong coffee flavour.
2. Start by brewing your coffee and preheating your blender with some hot water.
3. Separate the yolks from the whites and add the yolks to the blender.
4. Add the sweetener and salt (and any other ingredients you'd like to include).
5. Blend the yolks, sweetener and salt on the lowest setting and slowly drizzle in the hot coffee. After that, you can add more liquid and pour more quickly. If you have a big blender, you can probably keep the lid off without too much risk of spillage. Otherwise, add the coffee in batches and blend until combined between batches.

You can add the whole egg if you want to include protein as well. This method will work for that as well. The suggested ratios are 1 cup of coffee on two whole eggs.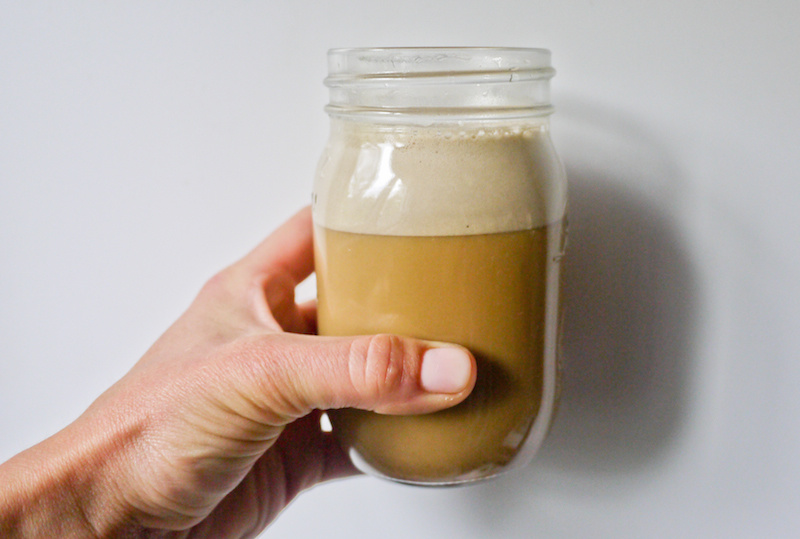 Adaptogenic Bulletproof Coffee

Butter and MCT Oil in your coffee? That's amazing, but ff you're ready to up the ante, try this supercharged adaptogenic Bulletproof Coffee recipe in four different upgrades!


INGREDIENTS
(1 large serving)
250 ml NoordCode Pure Coffee
1 tbsp grass-fed butter or 1 tsp NoordCode Pure Ghee
1 tbsp Pure C8 MCT oil
Optional: vanilla or cinnamon extract for refinement

To upgrade your coffee take one ingredient per coffee depending on the goal:

1 tsp cordyceps powder
1 tsp chaga powder
1 tsp lion's mane powder
1 tsp reishi powder


DIRECTIONS

Put all ingredients in the blender and blend on high speed for 15 seconds. Enjoy!


Salty Bacon Bulletproof Chocolate Coffee

Bacon coffee? You heard right. When making the OG eggs and bacon. Think twice. And save some bacon fat for this delicious salty bacon chocolate coffee recipe.


INGREDIENTS
(1 large serving)
1 cup of NoordCode Pure Coffee
1 tbsp of NoordCode MCT Oil
1 tbsp of bacon fat
1 tbsp of chia seed
1 tsp of cacao
Stevia to taste


DIRECTIONS

Mix it all up in a high-speed blender to pulverize the chia seeds. Serve and enjoy!



Bulletproof *Dalgona* Whipped Coffee

Have you hopped on the whipped coffee train yet? This was the 2020 coffee trend that went viral and we've created a Bulletproof version for you.
INGREDIENTS
(Serves 1)
1 egg white, whipped (from a pasteurized egg)
2-4 tsp. granulated sweetener
2-4 tbsp. NoordCode Pure Coffee (preferably espresso)
240 ml milk (mix of cashew milk and almond)


DIRECTIONS


1. Whip the egg white to medium-stiff peaks. The method is up to you: vigorously whisk the egg whites for a few minutes until they come together, or use a handheld mixer, stand mixer, or milk frother.
2. Add the sweetener to the whipped egg whites. Whip again until you get stiff peaks.
3. Fold in coffee and mix gently to desired scoopable (yet fluffy) consistency.
4. Scoop out the whipped coffee and use it to top a glass of non-dairy milk.